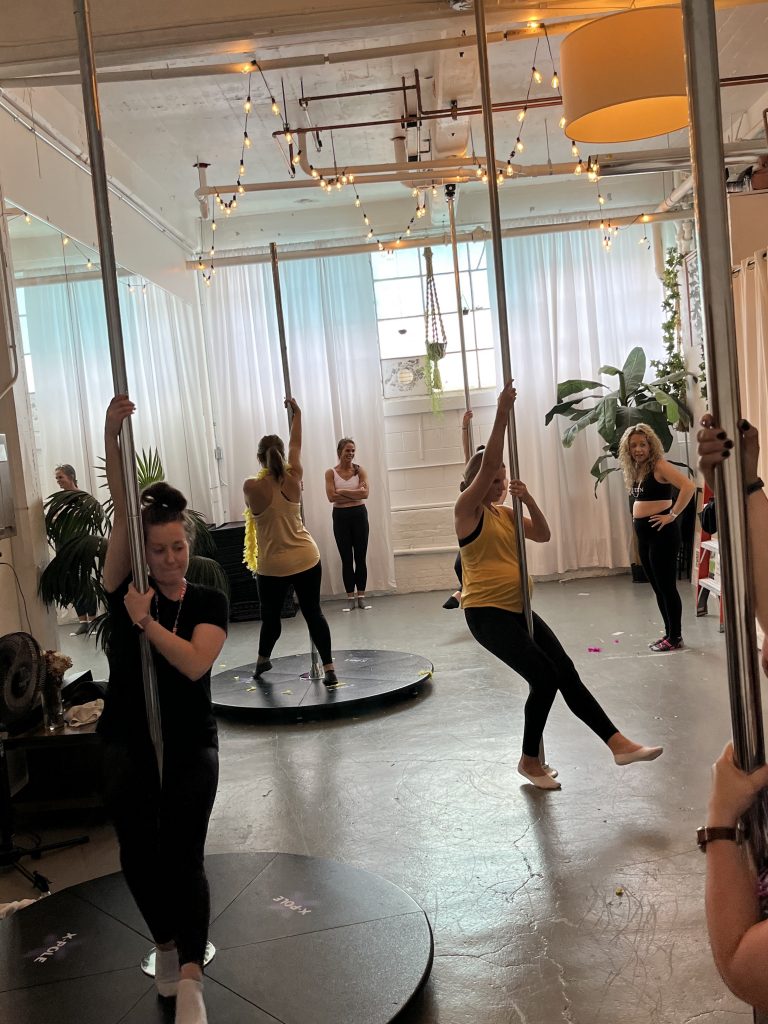 How to Book your Pole Party!
Email us at: [email protected]
Include your full name, email, phone number, how many people in your party, any date & time requests, and what you are celebrating
We will respond within 48 hours.
What's in a pole party?
1 hour and 15 minutes of guided pole dancing
Your dedicated pole instructor will guide you through beginner moves, put them into a choreography, and then let you have free dance time!
Perfect to celebrate a wedding party, birthdays, etc.
What to wear/bring?
Wear whatever feels most comfortable to you! Shorts, t-shirt, tank top, sports bra, leggings, etc.
Be sure to bring water!
Pricing
$30 per person
$90 nonrefundable deposit required to confirm booking
Minimum of 3 people required
Extra time can be purchased at $50 for 30 minutes and is dependent on instructor availability
Booking and Party Policies
Generic Policies

All participants and spectators must sign a waiver.
Nothing excessively messy is allowed within the studio (i.e. glitter or confetti)
Clean up and set up is the responsibility of the party participants.
Due to Wisconsin BYOB Laws, no alcohol is permitted to be brought in to the studio

Easily cleaned up food is allowed.
It is up to the instructor's discretion on if participants are visibly intoxicated upon arriving if they are able to participate. This is for the participant's safety.

Payment Policy

No refunds are available for party deposits.
1 reschedule is allowed 24 hours or more in advance.
Cancelled parties will receive no refund.

Party Time Policies

Early Arrival

You will not be allowed in more than 5 minutes before your start time

Late Arrival

The time you book is the time the studio is reserved, arriving late means forfeiting that time of your party.
If the instructor and time is available, we can last minute extend at $60 for an additional 30 minutes.

Booked Time

Set up and decoration is included in your reserved booking time.
The party ends exactly when it is scheduled to end. Clean up time also is factored into your time.